Hazuki Shimada (島田 葉月 Shimada Hazuki) is a supporting character in the Baka to Test to Shoukanjuu series. The younger sister of Minami Shimada, she is a student in fifth grade and is friends with both Akihisa Yoshii, who she calls "Baka no Onii-chan" (Mr. Stupid or a variety of nicknames referring to his idiocy in the English dub of the anime) and Mizuki Himeji, who she calls "Kirei no Onee-chan" (Ms. Pretty in the English dub of the anime).
She met Akihisa and Himeji through an incidental meetup at a toy store, where she wanted to purchase a large Noin teddy bear for her sister, who secretly wanted it. She was unable to afford it, but, through Akihisa and Himeji's respective efforts, managed to obtain the large Noin teddy bear for Minami and keep a small Noin one for herself.
With her wish granted, she kissed Akihisa on the cheek (which she calls her first kiss) and swore to be Akihisa's wife in the future, which resulted in the series of such references throughout the series.[1]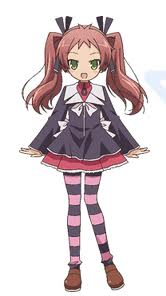 Her fondness of Akihisa increases during the series due to him going through a lot of trouble just to replace her lost Fee strap.[2] This is also reflected in her appearances with Akihisa throughout the series.
Due to her age, she is someone who will not hold back the truth to protect someone's ego, even for her sister,[3] when she constantly attempted to reveal to Aki that her sister made a bento for him. In some sense, she can be seen utilized as a plot-developer.
Even though she's in fifth grade, Yuuji commented that she is more mature than Akihisa. She even had the courage to admit in front of Mizuki and Minami that she likes Akihisa.
References
Edit
↑

Baka to Test to Shoukanjuu OVA: OVA-1

↑

Baka to Test to Shoukanjuu Anime: Episode 1-5

↑

Baka to Test to Shoukanjuu Anime: Episode 1-4