Class 2-B
Class Rank

Second

Homeroom Teacher

N/A

Class Representative
Class Ambassador

N/A

Known Members
List of Classes
Class 2-B is the second-smartest second-year class in Fumizuki Academy.
Classroom Appearance
Edit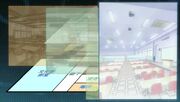 It has equipment that is high-class but not as state-of-the-art as Class 2-A's.
Students and Staff
Edit
It is unknown how many students are in Class 2-B. Their classroom is located opposite Class 2-A's and beside Class 2-D's. Their Class Representative is Kyouji Nemoto, and their Class Ambassador and homeroom teacher are unknown.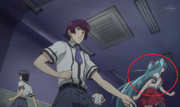 Vocaloid CV-01, a.k.a Hatsune Miku, makes a cameo appearance as a student of Class 2-B during the war between classes B and F in episode 11 of the 1st anime season.
Ad blocker interference detected!
Wikia is a free-to-use site that makes money from advertising. We have a modified experience for viewers using ad blockers

Wikia is not accessible if you've made further modifications. Remove the custom ad blocker rule(s) and the page will load as expected.