Home
Talk

2
145pages on
this wiki
Featured Article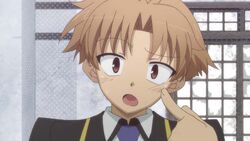 Akihisa Yoshii is the main protagonist and the narrator of the light novel series Baka to Test to Shokanjuu. He is portrayed as the "Ultimate Baka" and is said to have the worst grades of his entire class. He was so stupid, that he was even given the title of Punishment Inspector. Akihisa's parents are on long-term overseas work assignments and send money back regularly. So due to this Akihisa has gained excellent cooking skills.
About Baka to Test to Shoukanjuu
Baka to Test to Shokanjuu is a light novel series by Kenji Inoue that later gained both a manga adaptation and an anime adaptation. The main setting of the series is Fumizuki Academy, a school where its students are rigidly divided based on the results of their academic scores. At the start of the students' second year, they are academically sorted by their scores on the placement test. The higher their grades, the higher their class rank and the better their benefits. In this case, Class A is filled with the highest-scoring students; therefore, their classroom was filled with many prestigious items (air conditioners, fancy seats, huge spaces, etc.), while the state of Class F is the complete opposite of that, representing the "bottom of the barrel" amenities. This academy has something special, where all the students manage to call forth Summoned Beings (Shōkanjū). These Beings are used for battles between the classes to capture the facilities of the classroom. Since Class A is filled with prodigies, they all have strong Summoned Beings, while Class F has drastically weak ones in comparison. These beings are supplied in health by the matter of knowledge in a certain subject. Points vary and could even be supplied greatly in a F student if when calling a battle.
The main story is about Akihisa Yoshi, main protagonist along with his friends and their daily school life and their struggle to beat the other classes and to gain their facilities.
Permanent Poll
Of the known subjects taught in Fumizuki Academy's curriculum, which one are you best at?
Yearly Poll
What is your favourite characters gender?
Baka to Test Blogs
Create blog post
Blogs
Everyone Its the admin here:

I will only say this once




HIDEYOSHI'S GENDER IS HIDEYOSHI NOT MALE!





Thankyou for reading:




If you don't like this and change it to male you will be blocked for false informati…





Read more >

Please Comment down below if you want to disable Anonymous contributers on this wikia so only users with accounts can edit etc. (It helps me with vandilisers etc.)




If we get 20 yes' then I will block …


Read more >

es genial 

Read more >
See more >
---
Refresh
·
New Blog
·
See All
Featured Image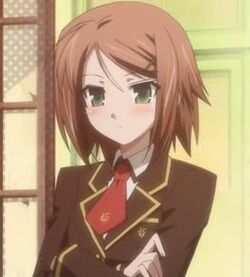 Helping Out
To write a new article, just enter the article title in the box below.
Not sure where to start?
<ONGOING!!!!!!!!>